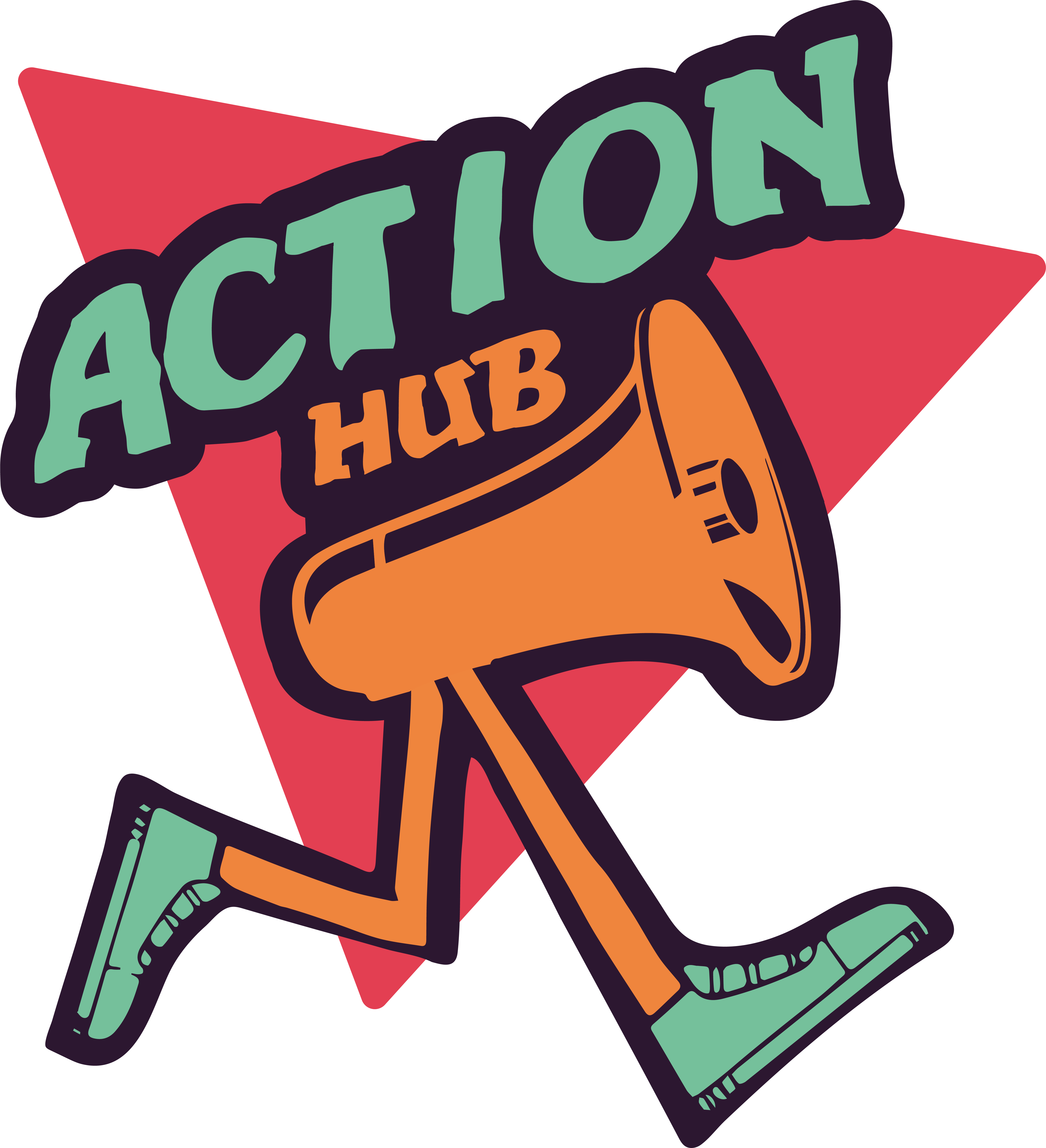 become the change you want to see
Meaning, Action, Connection
Explore our idea
What is Action Hub?
Action Hub is an open space in the heart of Copenhagen that works to empower young people to become the drivers of change. Our vision is to support young people for them to engage in meaningful work towards building an active, creative, and aware society.
At Action Hub you will be a part of a community of 40 young people between 16 – 24 years old who want to make a difference and who share a common vision and motivation. In our shared space, you will work with others to turn your best ideas and passion into action that creates a tangible change and meaning in society.
By enrolling in the Hub's four-month program, you will be given the tools, support, and network to create and implement an Action Project. During the four-months, Action Hub will host weekly training sessions that will provide a combination of lectures, workshops, mentorship, and networking, alongside a community dinner to kick off each evening. Each training session will be different from the last, building on the momentum of the previous week and the needs of each Action Project. While you will be required to sign up for one particular course, all activities will be open to everyone so that you will be able to decide what suits your Action Project best as it progresses. 
A 13,000 kroner grant will be provided for each team (3-5 people) to implement their Action Project. Teams will be formed in the second and third week of the program and training sessions will take place every Wednesday from 17:00-21:00, with dinner provided from August to October.
Action Project: 3-5 people, 1 great idea, 13,000 kroner
Explore our idea
Hvad er Actionhub?
ActionHub er et projekt baseret i hjertet af København, der arbejder for at styrke unge til at blive drivkræfterne for forandring. Vores vision er at støtte unge mennesker til at engagere sig i meningsfuldt arbejde ved at opbygge et aktivt, kreativt og bevidst samfund.
På Action Hub vil du være en del af et fælleskab med 40 unge mellem 16 – 24 år, der ønsker at gøre en forskel, og som deler en fælles vision og motivation. I vores fælles rum vil du arbejde sammen med andre for at gøre dine bedste ideer og lidenskab til handling, der skaber en håndgribelig forandring og mening i samfundet.
Ved at tilmelde dig Hub's fire måneders program får du værktøjerne, supporten og netværket til at oprette og implementere et handlingsprojekt. I løbet af de fire måneder vil Action Hub være vært for ugentlige træningssessioner, der giver en kombination af foredrag, workshops, mentorskab og netværk sammen med en fællesskabsmiddag, der starter hver aften. Hver træningspas vil være forskellig fra den sidste, idet den bygger på momentet i den foregående uge og behovene i hvert handlingsprojekt. Mens du bliver bedt om at tilmelde dig et bestemt kursus, vil alle aktiviteter være åbne for alle, så du vil være i stand til at bestemme, hvad der passer bedst til dit handlingsprojekt, når det skrider frem.
Der ydes et tilskud på 13.000 kroner til hvert hold (3-5 personer) til at gennemføre deres handlingsprojekt. Hold dannes i den anden og tredje uge af programmet, og træningspaserne finder sted hver onsdag fra 17: 00-21: 00 med middag til rådighed fra august til oktober.
Handlingsprojekt: 3-5 personer, 1 god idé, 13.000 kroner
You can apply in three different ways. Either via text, video or audio. We review all applications, regardless of format, to the same standard. Apply now to become one of our 40 Action Hub talents by sending your application to aisha@crossingborders.dk. 
Text: Write a text no longer than 2.500 characters (including spacing) and send us the document in a PDF-format.
Video: Record yourself for no longer than 5 minutes answering the four questions below. Upload it to a video streaming service (such as YouTube or Vimeo) and send us the link.
In person Interview: Contact us via Facebook, Instagram or E-mail to set a time where you can meet us and apply in person.  
Apply now
Hvordan man ansøger
Du kan ansøge på tre forskellige måder. Enten via tekst, video eller lyd. Vi gennemgår alle applikationer, uanset format, efter samme standard. Ansøg nu for at blive et af vores 40 Action Hub-talenter ved at sende din ansøgning til aisha@crossingborders.dk.  
Tekst: Skriv en tekst på ikke mere end 2.500 tegn (inklusive mellemrum), og send os dokumentet i PDF-format.
Video: Optag dig selv i ikke mere end 5 minutter og besvar de fire spørgsmål nedenfor. Upload det til en videostreamingtjeneste (såsom YouTube eller Vimeo), og send os linket.
Personligt interview: Kontakt os via Facebook, Instagram eller E-mail for at indstille et tidspunkt, hvor du kan møde os og ansøge personligt.
Beskrivelse af linje
På kønlinjen vill du både få praktiske og teoretiske værktøjer, som skal være med til at gøre reproduktiv- og seksuel sundhed mere tilgængeligt. På den her linje vil du få viden og inspiration til at bygge dit eget Action Hub projekt, som kan være med til at gøre en kæmpe forskel angående køn, seksualitet og samfundet. det vil blive gjort i form af workshops og timer, hvor du vil lære om, hvorfor seksuel sundhed er essentielt og hvilken rolle samfundet spiller når det kommer til seksuel sundhed og, hvilke udfordringer der kan være.
Course Description
On the gender line, you will receive both practical and theoretical tools, which will help to make reproductive and sexual health more accessible. On this line, you will gain knowledge and inspiration to build your own Action Hub project, which can help make a huge difference regarding gender, sexuality and society. it will be done in the form of workshops and classes where you will learn about why sexual health is essential and what role society plays when it comes to sexual health and what challenges there may be,
Beskrivelse af linje
På dette linje vil vi bringe emnet om klima krissen ned på jorden og bringe dig med os. På denne nedstigning vil vi sammen udforske konkrete løsninger på, hvordan vi kan handle, og skabe en reel forskel i vores egne liv, vores lokale miljø og verden. I løbet af kurset får du muligheden for at møde den virkelige klimaaktivist og grønne iværksættere og være i stand til at lytte til historien om, hvordan de på en række forskellige måder fandt mening og lidenskab på deres vej til at skabe en ændring i den måde, vi behandler vores smukke, blå planet på. Vi vil også diskutere almindelige dilemmaer, som miljøaktivister står over for, vellykkede sager og måder at tackle vores tids miljøudfordringer på – både lokalt og globalt.
Course description
In this line, we will introduce the topic of climate and bring you with us.  We will together explore concrete solutions on how to take action, and create a real difference in our own lives, our local environment, and the world. During the course, you will get the opportunity to meet real-life climate activist and green entrepreneurs, and be able to listen to the story of how they, in a variety of ways, found meaning and passion on their path to create a change in the way we treat our beautiful, blue planet. We will also discuss common dilemmas facing environmental activists, successful cases and ways to address the environmental challenges of our time – both locally and globally.
Apply now
Community Engagement Line
Beskrivelse af linje
På samfundsudviklingslinjen vil du have muligheden for at lære om hvordan du kan udvikle et projekt samt bidrage til dit lokalsamfund på samme tid! Vi vil give dig værktøjer samt viden inde for projektudvikling, så du kan stå på egne ben og sætte dit præg på dit lokalsamfund. Ved at tilslutte dig linjen har du mulighed for at tage dine drømme til det næste niveau. Du får chancen for at realisere dine ideer ved at oprette et actionhub-projekt.
Course Description
On the community engagement line, you can get the opportunity to learn how to organize communities and how to address local needs. You will also develop the ability to mobilize people into making real life change by empowering them. By joining the line, you will have the opportunity to empower yourself and those in your local community. You will have the chance to put your ideas, into reality by creating an actionhub project.
Apply now
Partners in this project
Apply now
Contact us if you have any questions