Let me introduce myself. I am Bruno, a 25 years old Spanish-French student in International Law, passionate about Mother Earth and its offerings. I arrived in Copenhagen about a month ago, which means that I am still a 'rookie' in this part of the world that is so unknown to me. During these first couple of weeks I listened and I observed. It was like to throw myself into the procession of cultural immersion in a new country and now I can share my first impressions of Denmark, known as one of the 'happiest' countries in the world.
One of the peculiarities that caught my attention during the first couple of days was a recycling machine in supermarkets in which used bottles can be exchanged for money. Someone explained, that there are people who do it to earn some money, but there is one more thing the initiative does – it pays back to 'Pachamama', our planet for being so. Or should I say the planet on which we live rather than "our planet"? I mean Mother Earth, just like our partner, loves us and shares her best secrets but it doesn't belong to anyone and we should never take her for granted. This part of the Planet is cold and winds are harsh, but the air that blows is clean and full of hope, hope for a better future, the 'winds of change'.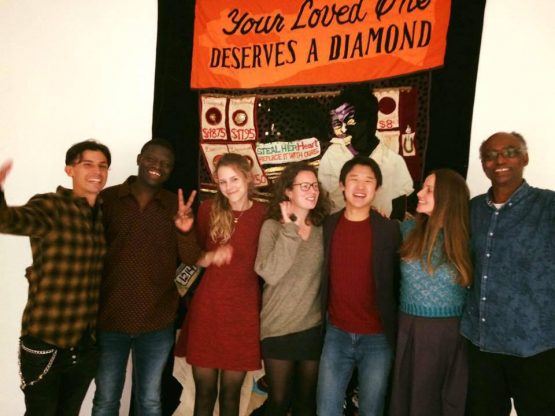 Nevertheless, the workshop which I got an opportunity to­­ attend on the 9th of October in Askov Efterskole did not focus on sustainability or climate change but on one of the other problems which requires raising awareness among young people as well – the issues of migrants and refugees and the different challenges associated with them.
To describe the event in one word, Awesome! Being a member of the Crossing Borders team through European Volunteer Service, my participation in the workshop gave me a chance to first of all observe and learn how my colleagues contribute to igniting a spark in minds of future, the youth. Danish youth seems well aware of importance of sustainability in today's mistreated world but they should not forgo the empathy towards its fellow being who are suffering from one of the biggest refugee crisis in our days, even if it is taking place far from where they live. This motivated me, even more, to be a part of the atelier. In Spain, for instance, there already exists "A wall" which is so much in news nowadays, dividing the humans of the Planet (in Melilla), as if we were separating two parts of the same body. And the wall is not just metaphoric. Still in the 21st century it divides people from two different continents (in Melilla) that nonetheless contain the same elements: families, children and gazes. I also lived in Sicily for a year, where in the island of Lampedusa almost two hundred thousand individuals each year are disembarked on the watch of relentless EU.
During the workshop, I could hear opinions of the students that shocked me: "we don't want the refugees here" or "don't come in Denmark". However, I also saw some of them looking at the problem with maturity and commitment. For this reason, I will continue being part of these kind of experiences: to empower the latter to bring about the change, from within themselves, their colleagues, their family and then the country. I think that I am in the perfect country to do this, not only because of Denmark's distance from the problem and thus a bigger need that arises to draw the attention to it but also the proximity with which the teachers can teach here, thanks to the non-formal space that the Danish educational system gives, which is truly an inspiration to other countries.
Big thank you to Crossing Borders for letting me to be a part of the project!
Bruno Tarazón Soler, student of International Law en Universitat de València and EVS member in Crossing Borders in Copenhagen.